Guide on Filing For Divorce in Harris County
Before you can file for a divorce in Houston, you need to have already made the necessary divorce documents.  Note that "filing a divorce" is simple the act of handing divorce documents and fees to the local district clerk, thus giving notice to this district clerk that you are starting a divorce case.
Filing a divorce does not get your divorce finalized, or finished.  Instead, filing a divorce just merely starts the case.
Here are 2 Options for how to file the divorce.
Option 1— Cook & Cook files the case for you (we will handle your uncontested divorce from start to finish— see our process)
OR-
Option 2— File the papers in person.
OR-
Option 3:  Register for an online service such as Texas EFile, and file the papers from this page online.  If you choose option 3, you will need to follow the specifications Texas EFile, which is outside the scope of this page.
OPTION 1 FOR FILING DIVORCE IN HARRIS COUNTY:
Hire Cook & Cook From Home, We Handle the Rest:  
 Option 1 will simply involve hiring Cook & Cook from the comfort of home, by clicking and filing here.
STEP 1 – YOUR ONLY JOB IS TO CLICK AND FILE
 We will use the information you submit here to file your case with the Harris County District Clerk. When your lawyer files your case, you can rest easy knowing it was done right.  This filing of the case is what starts your 60 day waiting period.
Remember that Divorce Documents are

Permanent Public Record

, so Having a lawyer do

this for you, helps to ensure it is done properly! 
OPTION 2 FOR FILING DIVORCE IN HARRIS COUNTY:
Print Your Papers and File For the Divorce, Yourself 

In Person.
STEP 1 – PRINT AND FILL OUT THE DOCUMENTS YOU NEED
You will need:
1. 1 original and 2 copies of your Petition for Divorce;
Get a properly filled out, 2019 Harris County Petition for Divorce, by using this tool on our website for creating a Harris County divorce petition.
2. 1 Civil Case Information Sheet;
 Get the Civil Case Information Sheet
3.  One check for the filing fees of $295 (divorces with children) or $268 (divorces with no children)
4.  It is also a good idea to bring some cash and a credit card in case you are asked to pay for some additonal copies or use unplanned parking.
Our goal is to help you get this right the first time so that you do not have to drive home again for something you forgot.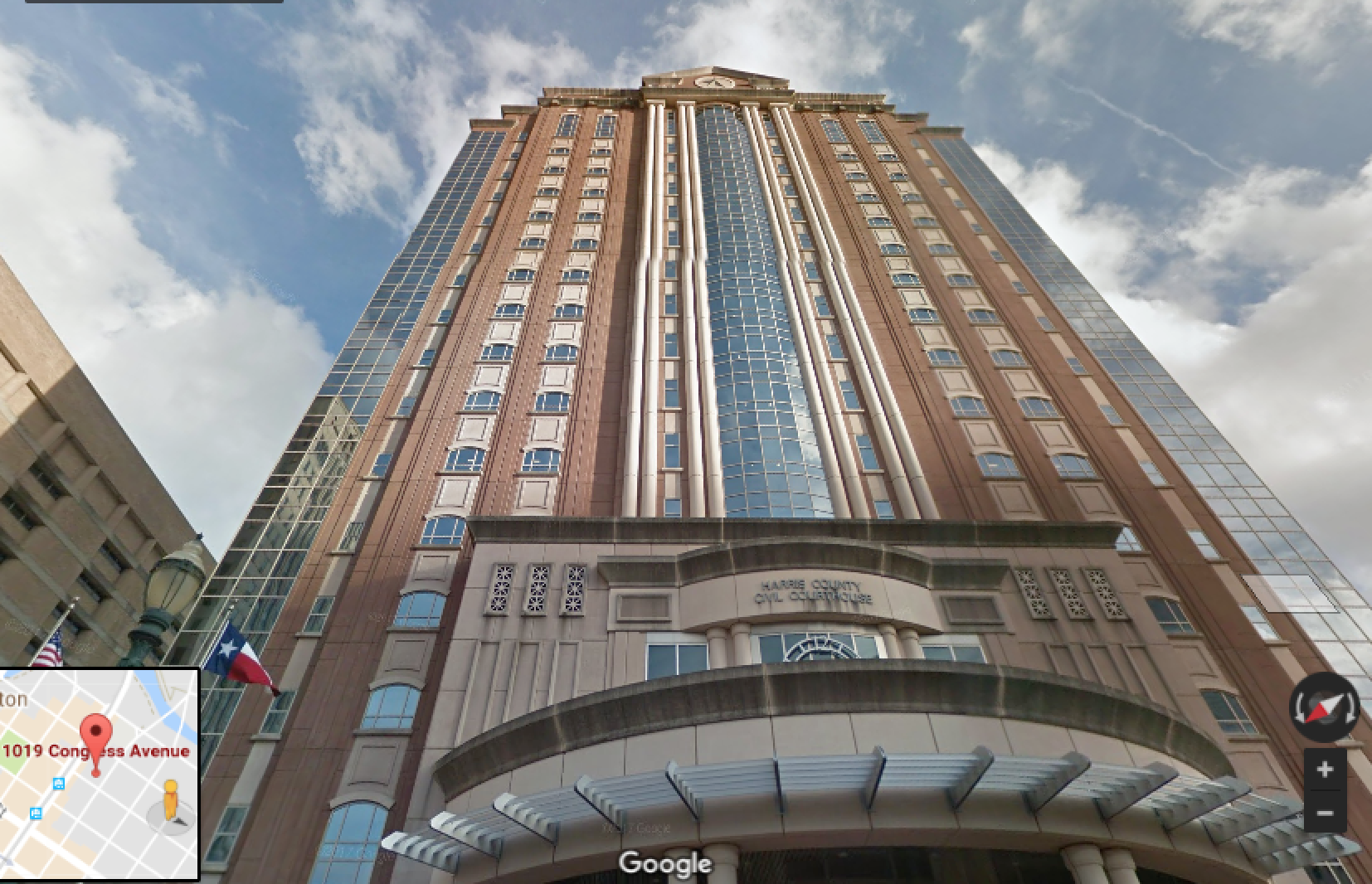 STEP 2 – BRING THE PAPERS TO THE DISTRICT CLERK
Now go 201 Caroline, 2nd Floor, Suite 210. Houston, TX 77002.   This is where the Harris divorce case intake clerk is whom will accept your petition for divorce and filing fees.  The clerk will review your documents and if they are acceptable, she will stamp them and file them.  Your divorce case has started.
STEP 3 – GO TO TO THE HARRIS COUNTY LAW LIBRARY
When you file the papers, the clerk will ask you questions about whether you are going to serve your spouse with papers.  The Clerk will direct you to go to the first floor of the Harris County Law Library at 1019 Congress Ave, Houston, TX 77002.
There are volunteer lawyers that are available from around Monday-Friday 9:00 am-12:00 pm to help you with understanding the next steps in your divorce case.
Here is a picture of the Law Library Building: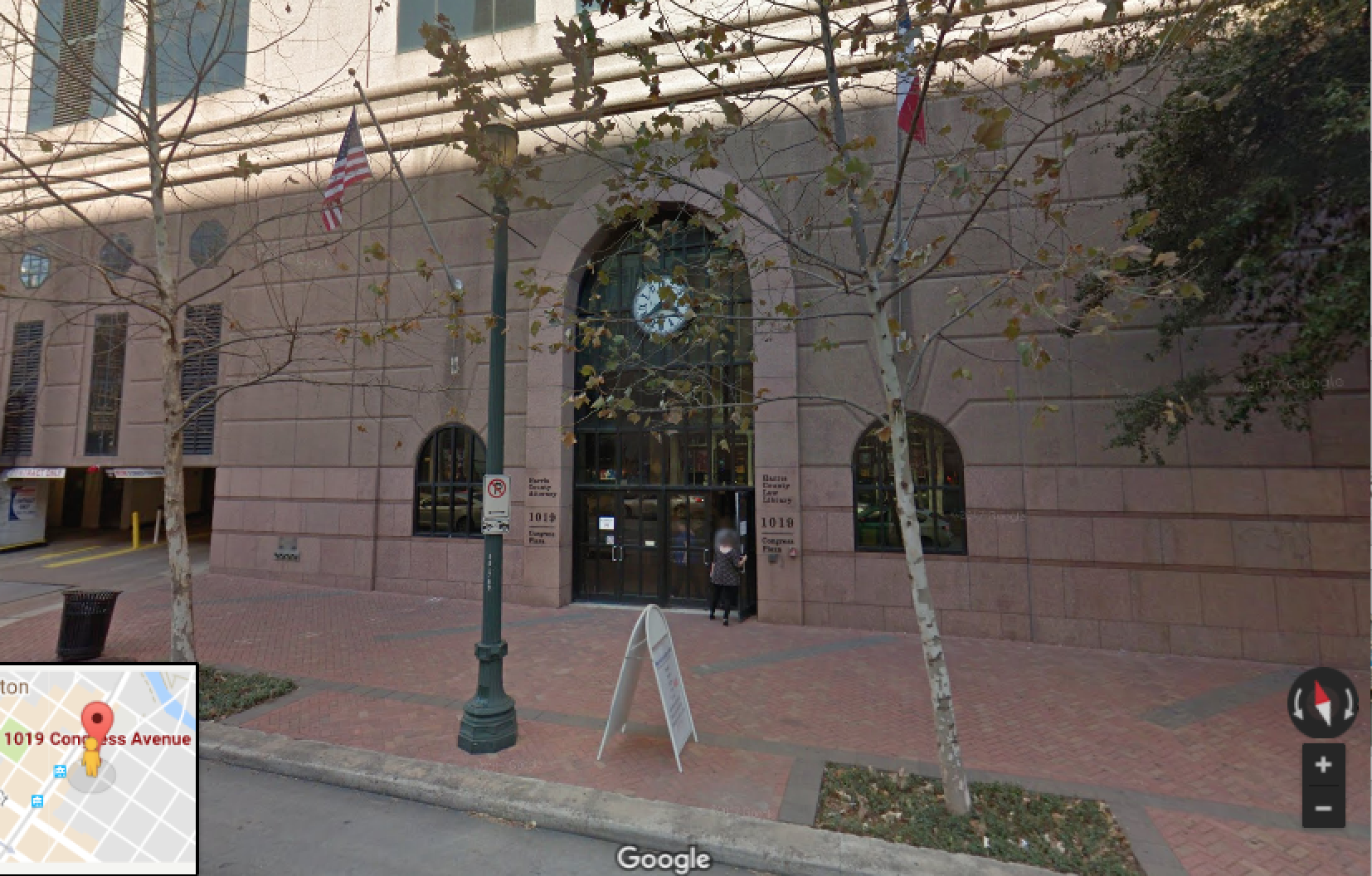 45Contacting the Law Library
When going through this process, I know you will likely want to talk to someone on the telephone.  Harris County does not enable much access to divorce help on the telephone. The District Clerk's line (713) 755-7300 will just lead you to an automated phone message that you need to go to the library in person to get help.
The most helpful telephone number to call is the law library: (713) 555-5183
Total Cost of Option 2 (File Case in Person): $268-450.  The price depends on whether you pay for the petition for divorce to be drafted by a company or whether you draft your own.  If you draft your own papers, then your only cost is the filing fee of $268-295.
Total Cost if you hire a Cook & Cook lawyer to handle your entire uncontested divorce: $1,495 (fixed fee) -$3,900 (retainer fee)  (See price details here)
Per Option 1:  You Can

Click

Here

to hire a lawyer for the entire divorce case.