Bexar County Standing Orders
(The Important Local Laws You Must Follow During Your Divorce Case)
If you are a lawyer, or if you are attempting to handle your own divorce in Bexar County Texas, you will inevitably come across the need to file your "Standing Orders."
What are the Standing Orders?
Standing orders are the rules that all divorcing couples have to follow, while their divorce is pending in San Antonio or in Bexar County. All of the local judges have issued the Standing Orders, by their signature on a public form.  These orders are actually automatically issued temporary orders which last from the date of starting the case until the date the final order is entered.
You can download a copy of the form here:
https://www.bexar.org/DocumentCenter/View/20622/Civil-District-Judges-Standing-Order—must-be-attached-to-all-new-petitions-for-Divorce-and-Suits-Affecting-the-Parent-Child-Relationship
When you file your divorce, you will have to file three documents:
Original Petition for Divorce (more about petitions here
Civil Case Information Sheet;
And the Standing Orders (above)
The Bexar County District Clerk will accept the standing orders, with the cause number, and names being left blank, so you only have to file the document with your divorce. You do not have to fill it out to file it.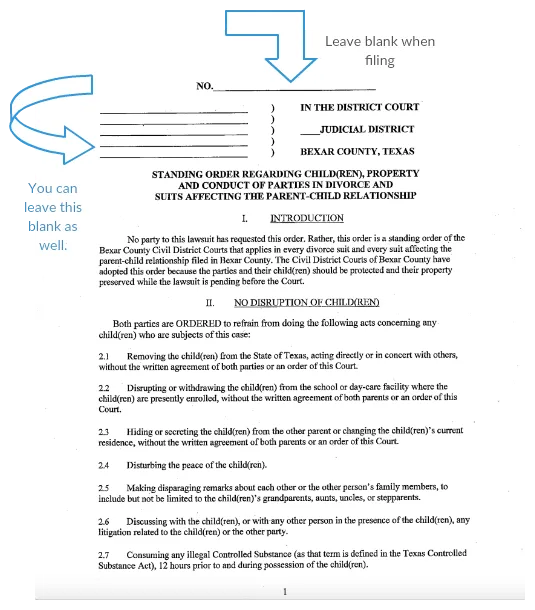 Standing Orders, written more simply:
 No hiding the children from one another;
No disrupting the peace of the children;
No talking down about the other parent or any family member in front of the children;
No discussing custody of the children in front of the children;
No consuming any illegal substance within 12 hours of seeing the children;
No overnights with romantic partners in front the children;
No removing the children from the State of Texas without written agreement by both parties;
No removing the children from day-care or school without written agreement by the parties
No talking to your soon-to-be ex vulgarly or obscenely;
10. No threatening your spouse;
11.  No prank (on anonymously) calling your spouse;
12.  No physically hurting your spouse;
13.  No threatening to physically hurt your spouse;
14.  No changing your spouse's address so that they do not receive mail
15. No reducing or destroying the value of any property of either yourself or your spouse;
16. No failing or refusing to disclose all information relating to your property;
17.  No damaging any property, whether electronic or tangible or intangible of your spouse;
18.  No causing pecuniary loss to your spouse;
19.  No selling any property of the marriage whether real property, community property or separate property.
20.  No incurring any indebtedness other than for legal fees;
21.  No withdrawing money from savings or checking accounts;
22.  No spending any money, except for basic necessities;
23.  No borrowing from your retirement funds;
24.  no endorsing your spouse's name on any documents;
25.  No taking any action to limit the credit cards in the name of the other party;
26.  No exercising control over your spouse's vehicle;
27.  You must continue to withhold funds for spouse's taxes;
28.  You must not terminate any utilities for your spouse;
29.  You must not destroy or alter any emails, texts or video messages relevant to the divorce;
30.No modifying or disposing of any electronic item that is relevant to the divorce;
31.No deleting anything from any  social media profile;
32.No using any password to gain access to the other parties social media or email account.
33.No excluding the other party from the spouse's home;
34.No destroying or hiding any family records;
35.No falsifying any records;
36.  No borrowing from life insurance policies;
37  changing the beneficiary of any life insurance policy;
38.  No Canceling or altering any insurance policy insuring either party or either parties children or property;
39.You are permitted to:
Continue life as usual in your business and occupation;
Make expenditures or incur debt for legal fees;
pay for reasonable and necessary living expenses;
Laws that May Surprise You:
No talking down about the other spouse in front of or to the Children.
No removing the children from the state without both parties signing a written agreement.
You must not login to your spouse's email or social media
You cannot spend money except on a lawyer and for necessary and reasonable needs
No selling anything (according to this rule, you cannot sell your car or house during a pending divorce).
The Obvious Question:  What Happens if I Break One of These Rules, or if My Spouse Does?
Nothing will happen, unless your spouse decides to inform the court that the rule was broken.  In that case, a hearing for contempt of court may be held, wherein the court could assess a fine or other punishment against you.
Here are all of the pages of the Temporary Restraining Order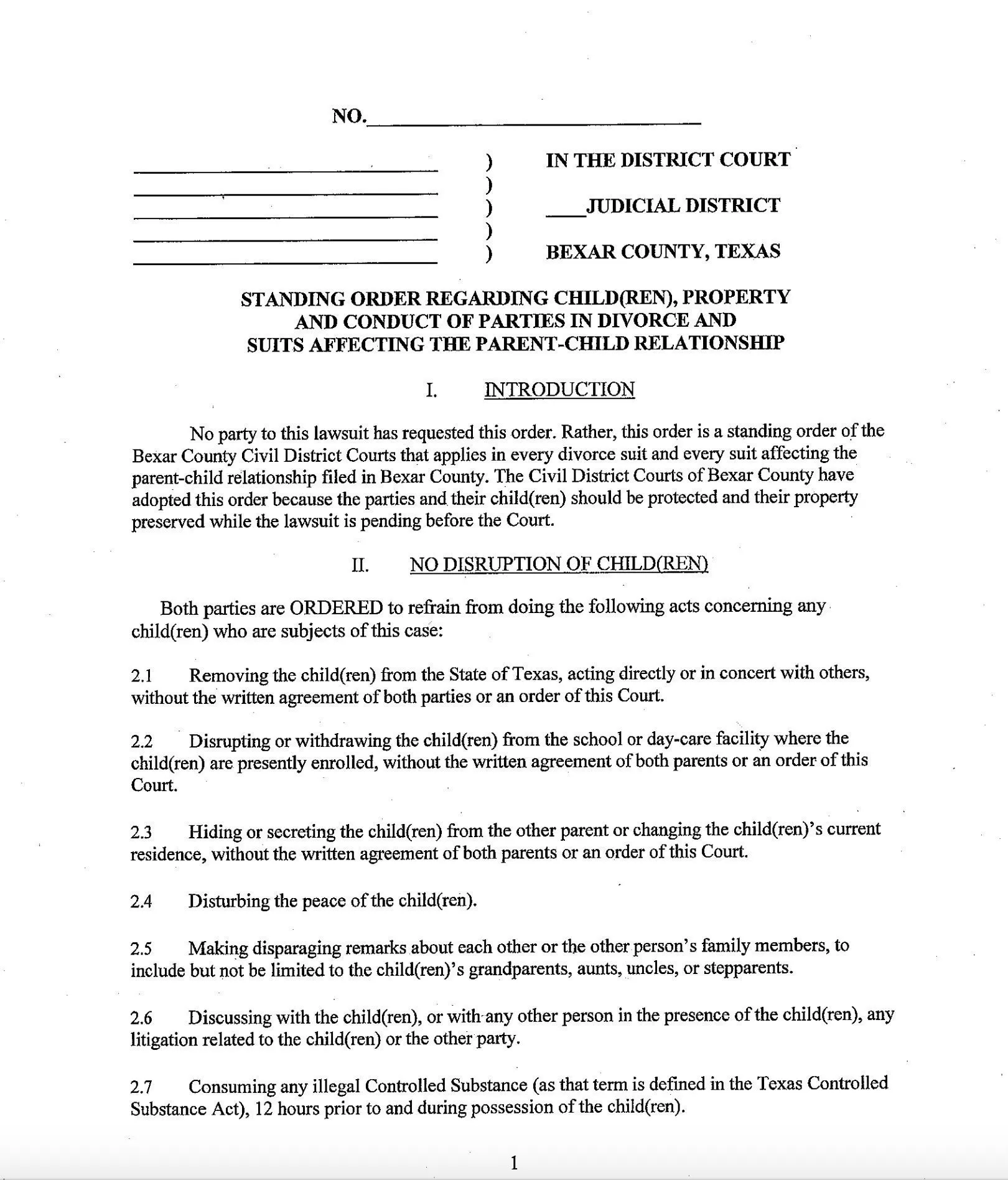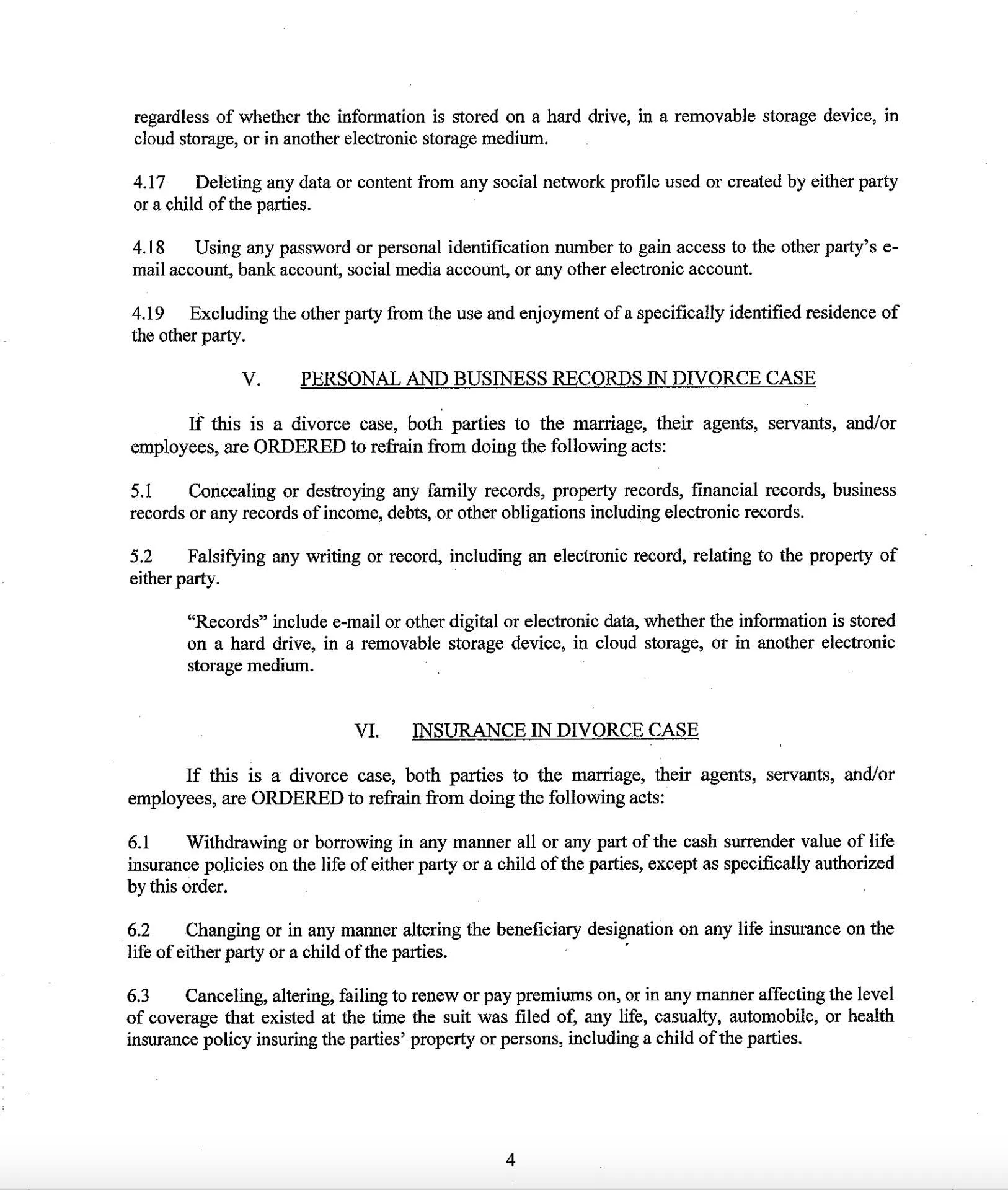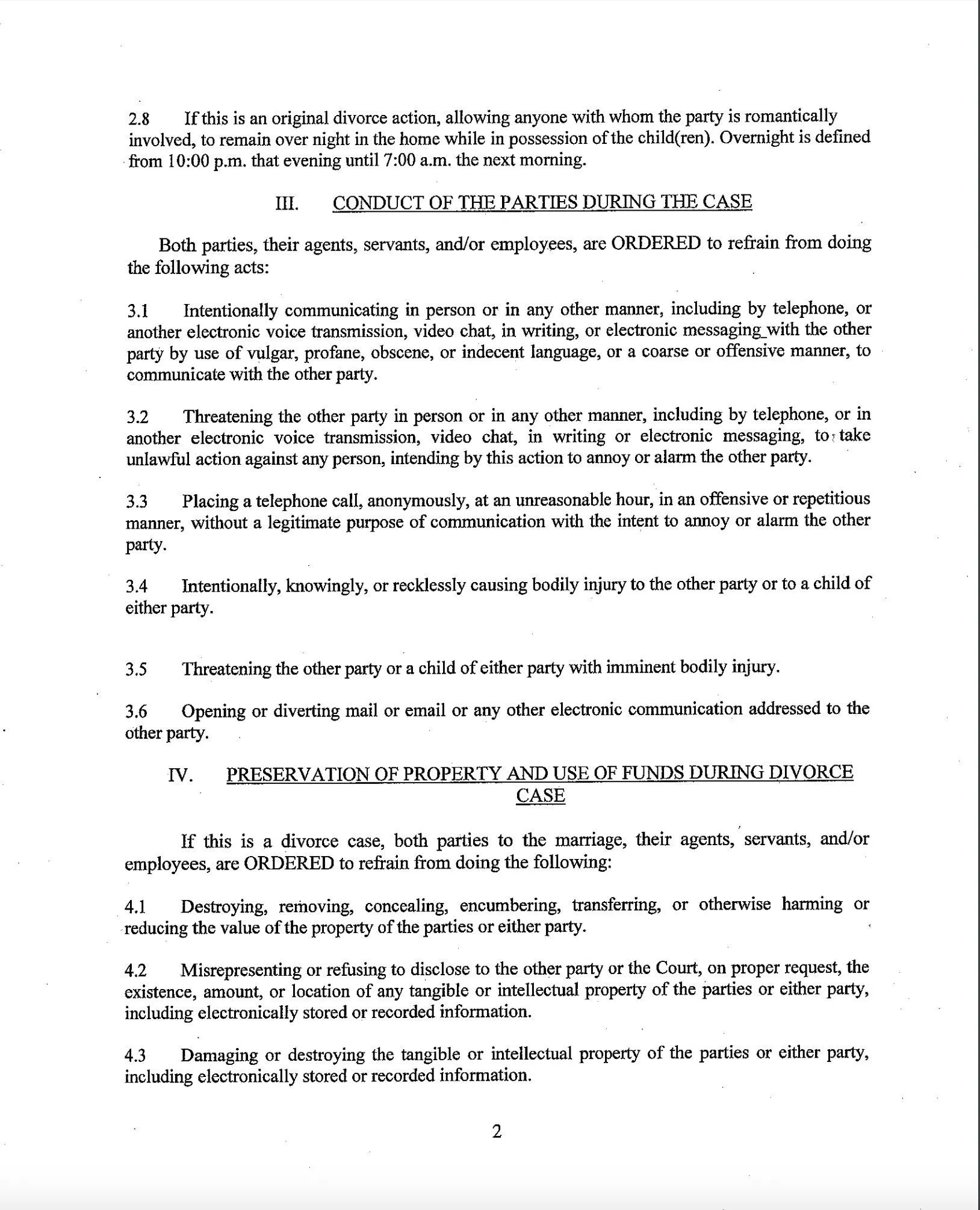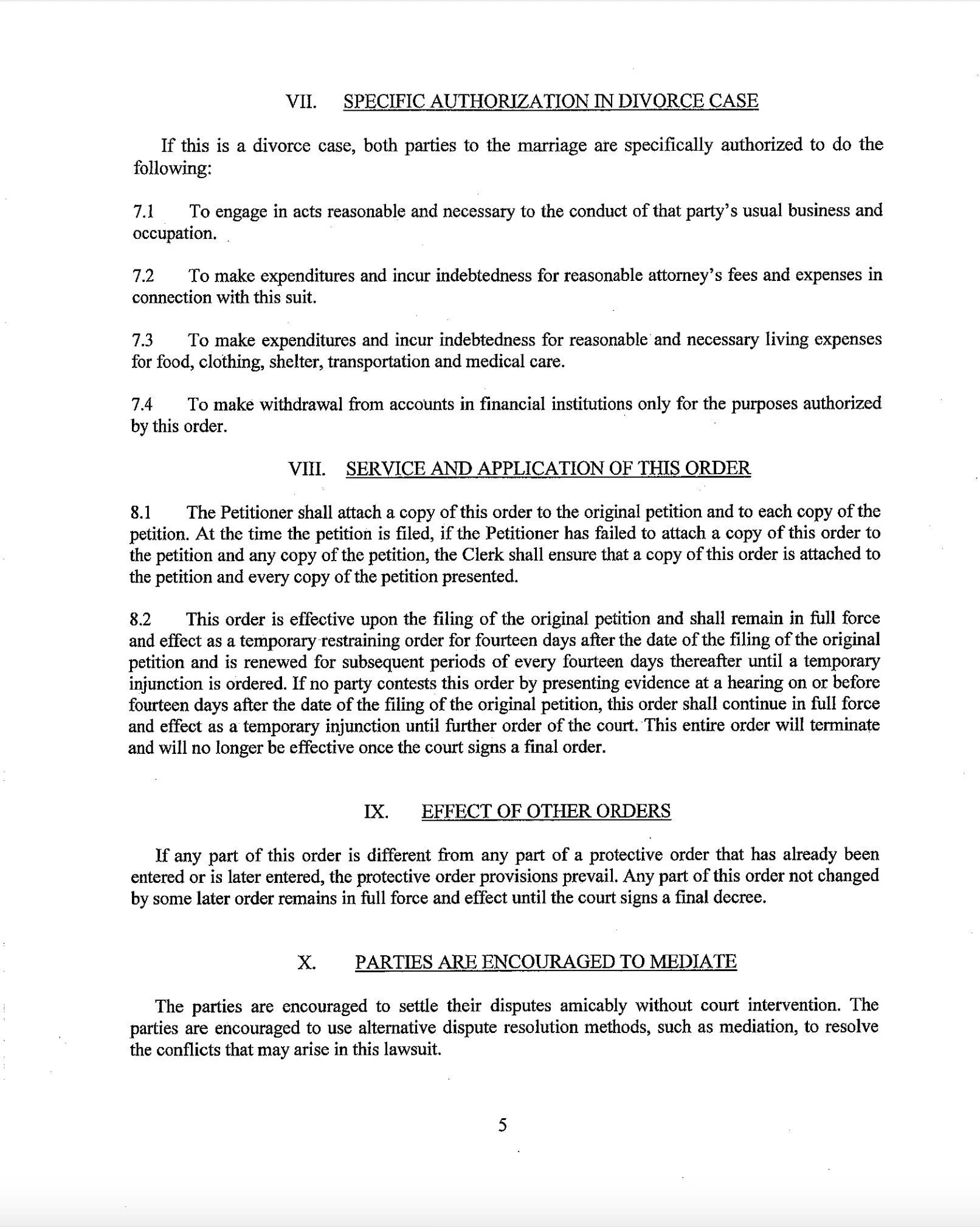 In Summary, You Have to Be Respectful of all Property, Evidence and People Involved in This Divorce.